Still

Missing

:

At

Least

3

Million

Jobs
There

'

s

still

plenty

the

Fed

can

do

to

get

people

back

to

work

.
by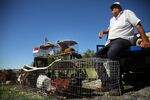 The U.S. Federal Reserve must answer a tough question in deciding when and how quickly to remove stimulus from the U.S. economy: How much more can employment grow before it becomes an inflationary force?
Judging from today's labor market data for March, we're still a few million jobs away from that point. The Fed can do plenty more to get people back to work.
QuickTake Monthly U.S. Jobs Report
Today's employment report ended what had been the longest streak of outsized monthly job gains in a decade. Nonfarm employers added just 126,000 jobs in March, the Labor Department estimates, bringing the three-month average down to 197,000. The unemployment rate held steady at 5.5 percent, a few tenths of a percentage point above the level economists define as "full employment" -- the point beyond which the demand for goods and workers tends to stoke inflation.
The headline numbers, though, don't fully reflect the damage still left over from the financial crisis and recession of 2008. Millions have left the workforce for lack of opportunities, or are stuck in part-time jobs. If the unemployment rate counted those people, it would be at least a couple percentage points higher, according to a recent analysis by the economists David Blanchflower and Andrew Levin.
To gauge the number of jobs still needed to reach full employment, Bloomberg View did its own analysis, borrowing the methods of Blanchflower and Levin to account for all the people expected to rejoin the labor force and switch from part-time to full-time work. As of March, the employment gap came to about 3 million -- a great improvement over a few years ago, but still very far from ideal. Here's how that looks:

It's possible, of course, that some of those people have lost the skills and motivation they need to return to the job market. If so, wages should be accelerating as employers compete for a smaller pool of willing and able workers. So far, despite reports that McDonald's and Wal-Mart are boosting pay for some workers, that's not happening. As of March, average hourly earnings stood at $24.86, up just 2.1 percent from a year earlier.
In other words, there's little sign that the Fed's efforts to improve the lot of millions of unemployed and underemployed people are threatening inflation. Until such evidence becomes overwhelming, the Fed needs to keep trying.
--Mark Whitehouse, Mary Duenwald
To contact the senior editor responsible for Bloomberg View's editorials: David Shipley at davidshipley@bloomberg.net .
Before

it

'

s

here

,

it

'

s

on

the

Bloomberg

Terminal

.
LEARN
MORE